The refrigerator has always been an essential appliance for most households to store fresh-keeping ingredients. Now, more and more people have explored its new uses, such as storing cosmetics.
Especially in summer, the temperature soars to 30 degrees. Many sisters like to put the mask in the refrigerator in the hot weather. When watching variety shows in the past, I found that many female stars will store their cosmetics in the refrigerator, so is the cosmetics refrigerator really necessary?
To understand this problem, let's first look at the reasons for the deterioration of cosmetics. There are two main reasons for the deterioration of cosmetics: the growth of microorganisms such as bacteria and the oxidation of the product. In addition, cosmetics have an open shelf life, which is generally much shorter than the sealed shelf life. Reaching into the cosmetic bottle will also allow bacteria to remain in the bottle. If you simply put the cosmetics on the dresser, with the unstable changes in indoor temperature and humidity, the cosmetics are more likely to deteriorate, while the cosmetics refrigerator can maintain a constant temperature and humidity.
The storage temperatures of several commonly used cosmetics are:
Toner: 10-15°C;
Milk and cream: 15°C;
Lipstick: 10-25°C;
Nail polish: 5-15°C;
Perfume: 10-15°C;
Mask type: 5-15°C.
Therefore, the storage temperature of cosmetics is generally not lower than 5 degrees, and the temperature of most
solar refrigerators
is set at 0-8 degrees because of the storage of food in ordinary refrigerators. Obviously, if it is used to store cosmetics at the same time, there are great limitations.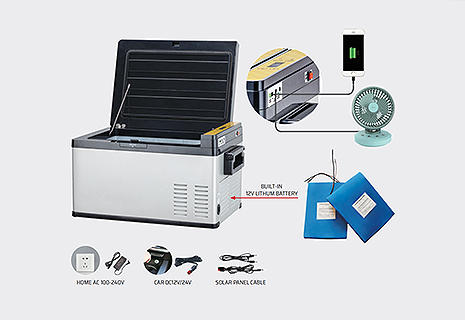 Furthermore, constant humidity is especially important for cosmetic refrigerators. Large-brand cosmetic refrigerators can always keep the humidity at 40%-60%, which can avoid cosmetic deterioration caused by humidity changes.
In this way, cosmetic refrigerators can really help us store cosmetics better and bring a sense of ritual to skin care.