Battery powered freezers typically include various safety features to prevent overheating or battery-related problems. Some of these safety features might include:
1.Temperature Monitoring and Control:
Advanced battery-powered freezers are equipped with temperature sensors that constantly monitor the internal temperature of the unit. The cooling system's operation is adjusted based on the temperature readings to prevent excessive cooling, which could strain the battery and lead to inefficiency.
2.Thermal Management:
To prevent overheating of the battery during charging or usage, some freezers feature thermal management systems. These systems might include heat sinks, fans, or even liquid cooling mechanisms that dissipate excess heat and maintain optimal operating temperatures.
3.Battery Management System (BMS):
The BMS is a critical component that manages the battery's health and safety. It monitors individual cell voltages, manages charging and discharging rates, and ensures that the battery operates within safe limits. If any abnormal conditions are detected, the BMS takes appropriate actions to protect the battery.
4.Overload Protection:
Overload protection mechanisms prevent the freezer from drawing more power than the battery or electrical components can handle. If the system detects an excessive power draw, it might automatically reduce the cooling load or temporarily halt operation to prevent strain on the battery and other components.
5.Short Circuit Protection:
Short circuit protection safeguards the system from damage in case of a short circuit, which can occur due to faulty wiring or components. When a short circuit is detected, the system might interrupt power flow to prevent damage to the battery and other sensitive parts.
6.Voltage Regulation:
Voltage regulation mechanisms stabilize the power input to the freezer. These mechanisms prevent sudden voltage spikes or drops that could damage the battery or other electrical components.
7.Battery Cooling:
Some battery-powered freezers have cooling mechanisms designed specifically for the battery. These mechanisms help maintain the battery's temperature within safe limits, preventing overheating during charging and operation.
8.Low-Battery Warning:
A low-battery warning system alerts users when the battery charge is reaching a critical level. This allows users to take action, such as connecting the freezer to a power source, before the battery depletes completely and the unit shuts down.
9.Auto Shutdown:
In cases of extremely low battery levels, the freezer might have an auto-shutdown feature. This prevents the battery from being deeply discharged, which can shorten its lifespan, and protects against potential damage caused by excessive discharge.
10.Battery Cell Balancing:
For freezers with multiple battery cells, cell balancing ensures that each cell charges and discharges evenly. This prevents imbalances that can lead to reduced battery capacity and overall lifespan.
11.Fire-Resistant Materials:
High-quality battery-powered freezers might be constructed using fire-resistant materials to mitigate the risk of fire in case of a malfunction, short circuit, or overheating.
12.Automatic Power Management:
To extend battery life, some freezers incorporate automatic power management systems. These systems reduce power consumption during periods of inactivity, helping to conserve battery energy.
13.External Ventilation:
If applicable, proper ventilation designs ensure that heat generated by the cooling system and the battery is effectively dissipated, minimizing the risk of overheating.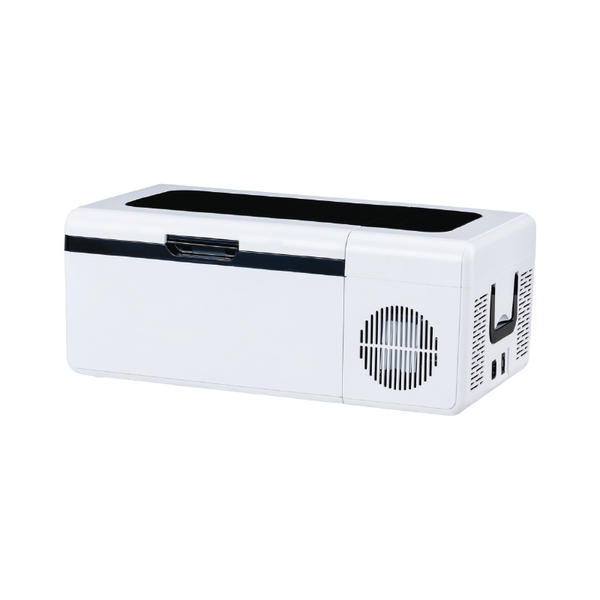 LED Display & Touch Control: With the touch control you can easily set your desire temperature (range from -4°F to 68°F), and different modes for option including Max (fast cooling) and Eco (Energy Saving). 
Intelligent Battery Protection: You can select the protection level (High, Mid and Low) according to your circumstance, and the control program keeps monitoring the car battery, the compressor will shut off automatically when the input voltage is lower than your setting, so the car battery will not run down.