Maintaining and cleaning a Dual Temperature Car Refrigerator is crucial to ensure its efficient and long-lasting operation. Here are some recommended maintenance and cleaning procedures:
1.Regular Cleaning:
Remove all items from the refrigerator before cleaning.
Use a mild detergent mixed with warm water to clean the interior surfaces, including shelves, drawers, and walls.
Pay special attention to spills and stains, ensuring they are thoroughly cleaned.
Rinse the interior with clean water to remove any detergent residue.
Dry the interior with a clean, lint-free cloth or paper towel before returning food items.
2.Defrosting:
If your refrigerator has a manual defrost function, follow these steps:
Turn off the refrigerator and unplug it.
Remove all items from the freezer compartment.
Allow the frost and ice to melt naturally, placing towels or containers to catch excess water.
Once the ice has melted, clean and dry the freezer compartment before plugging the refrigerator back in.
3.Inspect Seals and Gaskets:
Regularly check the door seals and gaskets for signs of wear, cracks, or looseness.
Ensure that the seals are properly aligned and making a tight seal when the doors are closed.
Clean the seals with a damp cloth to remove dirt and debris, and use a silicone lubricant on the gaskets if recommended by the manufacturer.
4.Ventilation:
Inspect the ventilation grilles and fans at the rear or bottom of the refrigerator.
Remove any dust or debris that may obstruct airflow using a brush or vacuum cleaner with a brush attachment.
Ensure there is enough space around the refrigerator for proper ventilation.
5.Check Temperature:
Use a reliable thermometer to monitor the temperature in both compartments regularly.
Adjust the temperature settings if necessary to maintain the desired temperature range.
6.Empty and Unplug for Storage:
If you plan to store the refrigerator for an extended period, empty it completely to prevent food spoilage.
Unplug the refrigerator to save energy and reduce wear on the compressor.
Leave the refrigerator doors slightly ajar to allow for air circulation and prevent mold and odors.
7.Inspect and Clean Condenser Coils:
If your refrigerator has exposed condenser coils, inspect them for dust and dirt buildup.
Use a brush or a vacuum cleaner with a brush attachment to gently clean the coils.
Ensure the refrigerator is unplugged before cleaning the coils.
8.Use Baking Soda:
To eliminate odors, place an open box of baking soda on a shelf inside the refrigerator.
Replace the baking soda every few months to maintain its effectiveness.
9.Proper Food Storage:
Store food in airtight containers or sealed bags to prevent spills, maintain freshness, and reduce the risk of odors.
10.Avoid Overloading:
Do not overfill the refrigerator, as overcrowding can restrict airflow and hinder cooling efficiency.
11.Inspect Power Cables:
Periodically check the power cable and plug for any signs of damage or wear.
Ensure the electrical socket is in good condition and securely connected.
12.Follow Manufacturer's Guidelines:
Refer to the manufacturer's user manual for specific maintenance and cleaning instructions tailored to your refrigerator model.
13.Service and Repairs:
If you encounter any issues, malfunctions, or unusual noises from your refrigerator that you cannot resolve, contact a qualified technician or the manufacturer's customer support for professional assistance.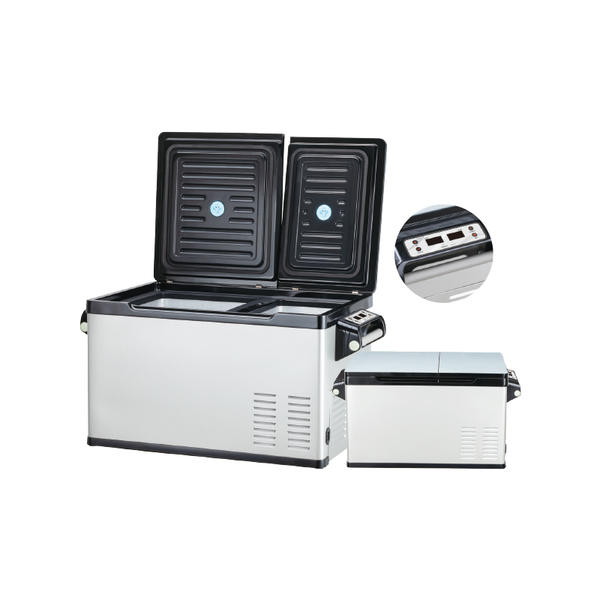 LED Display & Touch Control: With the touch control you can easily set your desire temperature (range from -4°F to 68°F), and different modes for option including Max (fast cooling) and Eco (Energy Saving). 
Work on 12/24V DC and 220V AC power source, you can move the portable fridge seamless from home to vehicle. A DC power cord and AC power cord are included in the original packing. You don't have to re-set the temperature when you change the power source because of the memory function.