Solar freezers contribute to reducing greenhouse gas emissions primarily by utilizing clean and renewable solar energy to power their operations. Here's how they help in this regard:
1.Renewable Energy Source:
Solar freezers harness the energy of the sun, a renewable and practically inexhaustible resource. Unlike fossil fuels, which are finite and produce emissions when burned, solar energy is abundant and doesn't release greenhouse gases into the atmosphere.
2.Reduced Grid Dependency:
Solar freezers operate independently of the electrical grid, making them especially valuable in areas with unreliable or nonexistent grid access. By reducing reliance on fossil-fuel-based grid power, solar freezers help alleviate the need for additional power generation that contributes to greenhouse gas emissions.
3.Direct Emission Reduction:
Conventional freezers powered by electricity from the grid rely on fossil fuels for generation. Solar freezers, on the other hand, convert sunlight directly into electricity without emitting any greenhouse gases during operation. This direct emission reduction is a fundamental advantage of using solar energy.
4.Offsetting Diesel Generators:
In off-grid or remote locations, diesel generators are often used for power generation. These generators emit carbon dioxide (CO2) and other pollutants, contributing to environmental degradation and climate change. Solar freezers can replace or supplement diesel generators, significantly reducing emissions associated with power generation.
5.Environmental Benefits:
By opting for solar freezers, individuals, businesses, and organizations contribute to a cleaner environment by reducing their carbon footprint. The cumulative effect of numerous solar freezers can lead to decreased local air pollution, improved air quality, and a reduction in the overall concentration of greenhouse gases in the atmosphere.
6.Promotion of Renewable Energy:
Solar freezers serve as tangible examples of the viability of renewable energy sources, particularly solar power. Their successful implementation encourages others to consider and adopt clean energy technologies, fostering a positive shift toward a more sustainable energy landscape.
7.Long-Term Impact:
Solar freezers typically have long operational lifespans, often lasting for over a decade. Over this extended period, the emissions avoided by using solar energy can be substantial. This long-term impact amplifies their contribution to reducing greenhouse gas emissions.
8.Education and Advocacy:
The adoption of solar freezers provides opportunities for education and advocacy regarding sustainable energy practices. Communities, businesses, and individuals who utilize solar freezers can share their experiences and knowledge, raising awareness about the benefits of clean energy solutions and influencing policy changes.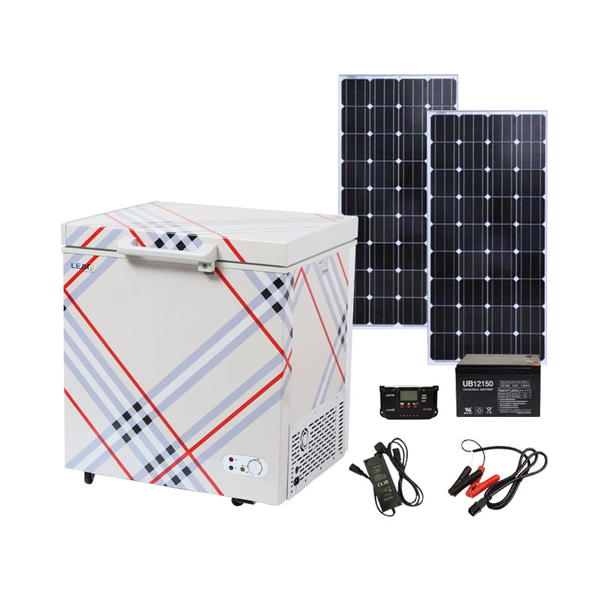 High quality DC compressor
Works as a fridge or freezer with adjustable thermostat
Does not require an inverter
Works with both 12/24 Volt systems (auto recognition)
Environmentally-friendly refrigerant R134a
Storage basket(s) included for better space utilisation inside
Optional converter to run on AC power
If 200L or over 200L capacity freezer , please choose 
24Volt systems connection