The cost of a solar freezer compared to a conventional electric freezer can vary based on several factors, including the initial purchase price, ongoing operational costs, and potential long-term savings. Here's a breakdown of how the costs might compare:
1.Initial Purchase Cost:
Solar Freezer: The upfront cost of a solar freezer is generally higher due to the inclusion of solar panels, a battery storage system, and specialized components that enable the conversion and storage of solar energy. Prices can vary widely based on the size, brand, and features of the solar freezer.
Conventional Electric Freezer: Electric freezers have a lower initial purchase cost since they only require the freezer unit itself, without the need for solar panels or battery storage.
2.Operational Costs:
Solar Freezer: Once installed, solar freezers have minimal ongoing operational costs. They harness energy from the sun, which is a free and renewable resource. However, there may be maintenance costs associated with the solar panels, batteries, and other components over time.
Conventional Electric Freezer: Electric freezers rely on grid electricity, which comes with ongoing operational costs. These costs are influenced by energy prices and usage. Over time, these costs can accumulate and potentially exceed the initial price difference between solar and conventional freezers.
3.Energy Source:
Solar Freezer: Solar freezers utilize clean and renewable solar energy. They harness sunlight through solar panels, converting it into electricity to power the freezer and store excess energy in batteries for use during periods of low sunlight.
Conventional Electric Freezer: Electric freezers draw power from the electrical grid, which often relies on a mix of energy sources, including fossil fuels. This can result in higher greenhouse gas emissions and contribute to environmental degradation.
4.Long-Term Savings:
Solar Freezer: Over the long term, solar freezers can offer substantial savings on electricity bills. While the upfront investment is higher, the ongoing energy costs are significantly lower since they rely on solar energy. Depending on the local energy costs and the size of the system, these savings can outweigh the initial cost difference.
Conventional Electric Freezer: Electric freezers have lower upfront costs, but their ongoing operational costs can accumulate over time. As energy prices rise, these costs can become a significant factor in the long-term cost comparison.
5.Environmental Considerations:
Solar Freezer: Solar freezers have a smaller carbon footprint. By utilizing clean solar energy, they contribute to reducing greenhouse gas emissions and mitigating climate change. This environmental benefit is a significant advantage for those concerned about sustainability.
Conventional Electric Freezer: The environmental impact of electric freezers varies based on the energy sources used in electricity generation. If the grid relies on fossil fuels, electric freezers contribute to emissions and environmental degradation.
6.Location and Incentives:
Solar Freezer: The cost-effectiveness of a solar freezer can depend on the geographical location. Areas with ample sunlight are better suited for solar energy production. Additionally, local incentives, subsidies, and tax breaks for solar installations can impact the overall cost-effectiveness.
Conventional Electric Freezer: The cost of using a conventional electric freezer is generally consistent across locations, as it relies solely on grid electricity. However, regional variations in energy prices can still influence operational costs.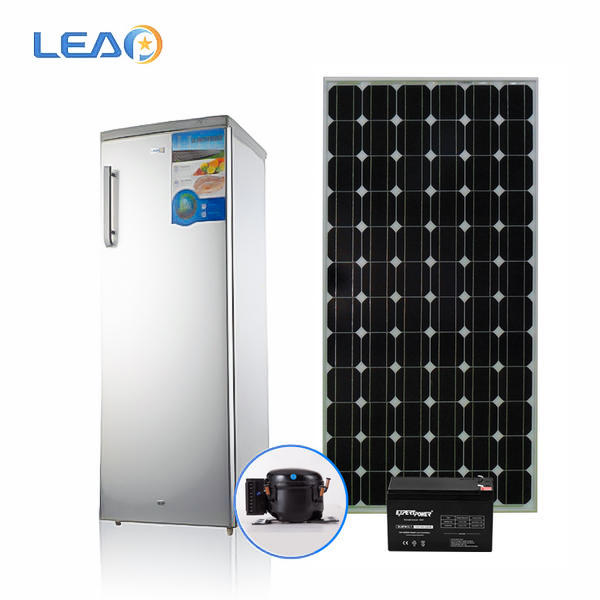 High quality DC compressor
Works as a freezer only
Does not require an inverter
Works with both 12/24 Volt systems (auto recognition)
Environmentally-friendly refrigerant R134a