When you're on the go and need to keep your drinks cool, a portable car refrigerator can be the perfect solution. These compact units are designed to fit in your vehicle and keep your drinks and food chilled to perfection, no matter how long your journey may be. We'll explore the secret to perfectly chilled drinks on the go and how
portable car refrigerators
can help you achieve it.
The Importance of Keeping Drinks Cold
Whether you're on a road trip, camping, or simply running errands around town, it's important to keep your drinks cold. Warm drinks can be unpleasant to consume, especially on a hot day, and can also promote the growth of bacteria that can make you sick. Additionally, some beverages, such as beer and wine, are best served chilled to enhance their flavor and aroma.
Traditional Methods of Cooling Drinks on the Go
In the past, people have used a variety of methods to keep their drinks cool on the go. One of the most popular methods is to use a cooler filled with ice. While this can be effective for short trips, it's not always practical for longer journeys. The ice can melt quickly, leaving your drinks warm and your food soggy. Additionally, coolers can take up a lot of space in your vehicle and can be heavy to carry.
Another method that people have used is to freeze their drinks before they go on their journey. While this can work well for some beverages, such as water and soda, it's not recommended for others, such as beer and wine. Freezing can alter the flavor and texture of these drinks, making them less enjoyable to consume.
The Secret to Perfectly Chilled Drinks on the Go: Portable Car Refrigerators
The secret to perfectly chilled drinks on the go is to use a portable car refrigerator. These units are specifically designed to fit in your vehicle and keep your drinks and food at the perfect temperature. Portable car refrigerators come in a variety of sizes, so you can choose one that fits your needs.
One of the biggest advantages of portable car refrigerators is their ability to maintain a consistent temperature. Unlike traditional coolers, which rely on ice to keep things cool, portable car refrigerators use advanced cooling technology to maintain a set temperature. This means that your drinks and food will stay at the perfect temperature, no matter how long your journey may be.
Portable car refrigerators are also extremely convenient. They are compact and lightweight, so they won't take up much space in your vehicle, and they're easy to carry when you're on the go. Additionally, many models come with a variety of features, such as adjustable shelves and digital temperature control, that make them even more user-friendly.
If you're someone who enjoys cold drinks on the go, then a portable car refrigerator is the perfect solution. These units are designed to keep your drinks and food chilled to perfection, no matter how long your journey may be. They are convenient, reliable, and easy to use, making them a must-have for anyone who spends time on the road.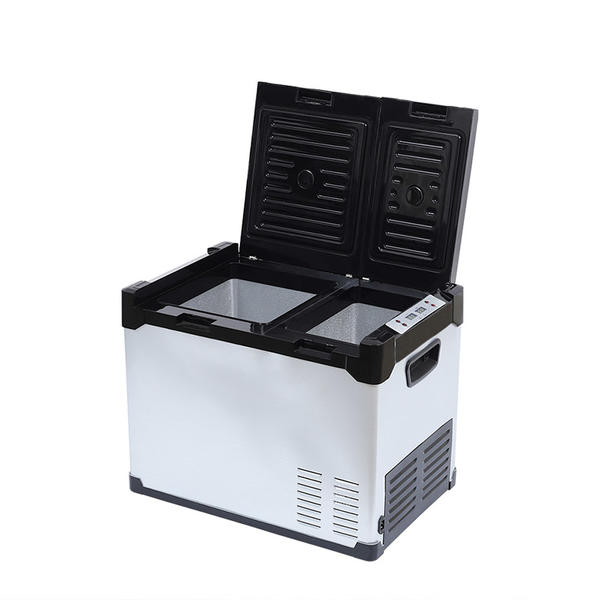 Three power supply: car battery 12V/24V; power supply 100V-240V; solar energy
Built-in 12v lithium batttery can work everywhere once charged
With USB interface you can charge all electronic Products
LED Display and Touch Control you can easily set your desire temperature
Different modes for option including Max (fast cooling) and Eco (Energy Saving)
LP- 20/30/40/50 Litres All in one car refrigerator