Using solar air coolers over conventional cooling methods offers several environmental benefits:
1.Reduced Greenhouse Gas Emissions:
Solar air coolers significantly mitigate the carbon footprint associated with cooling systems. By harnessing solar energy, they curtail the demand for electricity sourced from fossil fuels. This reduction in fossil fuel consumption translates directly into diminished emissions of carbon dioxide (CO2) and other greenhouse gases, pivotal in mitigating climate change effects.
2.Energy Efficiency:
Solar air coolers exemplify a high level of energy efficiency. Through direct utilization of solar power, they circumvent the energy losses incurred in electricity generation, transmission, and conversion processes. This efficiency translates into substantial energy conservation, aligning with global efforts to optimize energy usage and reduce wastage.
3.Decreased Electricity Demand:
By harnessing solar power, air coolers alleviate stress on conventional energy grids, especially during peak demand periods. This reduction in electricity demand aids in averting potential energy shortages, thereby reducing the need for additional non-renewable energy sources and associated environmental degradation.
4.Water Conservation:
Solar air coolers operate without water consumption, a critical factor in regions grappling with water scarcity. Unlike evaporative cooling systems, which require significant water inputs, solar air coolers offer a sustainable alternative, preserving precious water resources and promoting responsible water usage practices.
5.Minimal Use of Refrigerants:
Unlike traditional air conditioning systems that rely on refrigerants like hydrochlorofluorocarbons (HCFCs) or hydrofluorocarbons (HFCs), solar air coolers operate without such harmful substances. By eliminating the use of these potent greenhouse gases and contributors to ozone layer depletion, solar air coolers safeguard the environment and human health.
6.Reduced Heat Island Effect:
Solar air coolers contribute to mitigating the urban heat island effect. Unlike conventional cooling systems that emit substantial heat, solar air coolers operate at lower temperatures, reducing the overall heat discharged into the environment. This fosters a cooler urban landscape, enhancing overall environmental quality.
7.Lower Noise Pollution:
Solar air coolers operate with minimal noise emissions, ensuring a quieter environment. This reduction in noise pollution is especially pertinent in residential areas and commercial spaces, enhancing overall occupant comfort and well-being while promoting a serene atmosphere.
8.Extended Product Lifespan:
Solar air coolers, characterized by simplified designs and reduced mechanical complexity, exhibit prolonged operational lifespans. Their durability translates into fewer units being discarded prematurely, contributing to the reduction of electronic waste. This longevity aligns with sustainable consumption principles, promoting responsible product lifecycle management.
9.Encourages Renewable Energy Adoption:
The adoption of solar air coolers serves as a tangible testament to the viability of renewable energy solutions. By showcasing the effectiveness of solar technology, these systems encourage wider adoption of solar power in various sectors. This increased demand, in turn, stimulates advancements in solar technology and fosters a more sustainable energy landscape.
10.Educational and Awareness Impact:
Solar air coolers play a vital role in environmental education and awareness. Their visible presence underscores the practical applications of renewable energy, fostering a deeper understanding of sustainable practices. By serving as exemplars of eco-friendly technology, they inspire individuals and businesses to explore and embrace other green technologies, thereby promoting a holistic approach to environmental stewardship.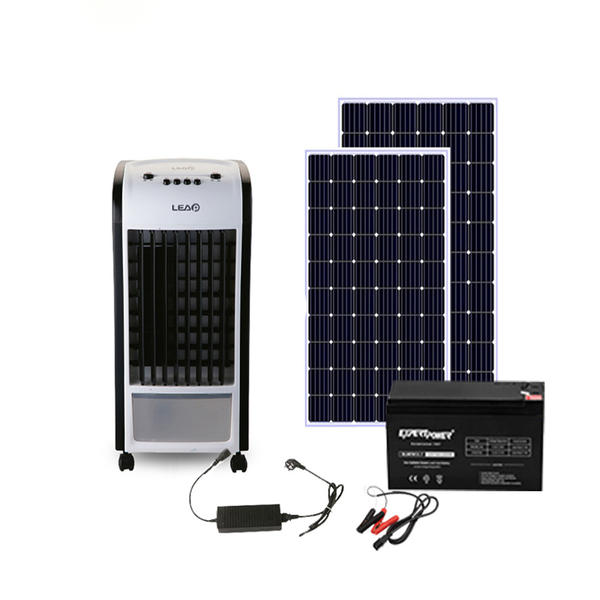 DC brushless motor , long life and safety
Manual vertical airflow adjustment
Automatic horizontal swing
With wheels for easy moving