The refrigeration industry has long been a crucial component of modern society, providing a means of preserving food, medicine, and other perishable goods. However, traditional refrigeration technologies rely heavily on fossil fuels and electricity, contributing to environmental degradation and climate change. In recent years, there has been a growing interest in sustainable cooling technologies that can reduce energy consumption and carbon emissions.
Solar refrigerators
have emerged as a promising solution to this problem, revolutionizing the cooling industry and paving the way for a greener future.
Solar refrigerators operate using photovoltaic (PV) panels that convert sunlight into electricity. This electricity is used to power the refrigerator's compressor, which circulates refrigerant through the system, cooling the interior of the unit. Unlike traditional refrigerators, solar refrigerators can operate entirely off the grid, making them ideal for use in remote areas or locations without access to reliable electricity. In addition to their off-grid capabilities, solar refrigerators are also highly energy-efficient, consuming up to 50% less energy than traditional refrigerators.
One of the primary benefits of solar refrigerators is their environmental sustainability. The use of solar energy to power refrigeration reduces reliance on fossil fuels and lowers carbon emissions, making solar refrigerators an attractive option for those looking to reduce their carbon footprint. Additionally, solar refrigerators are highly durable and require minimal maintenance, reducing their environmental impact over their lifespan.
Solar refrigerators are also highly versatile, with a wide range of potential applications. They can be used to store vaccines, medications, and other temperature-sensitive products in remote clinics and hospitals, improving access to healthcare in underserved areas. Solar refrigerators can also be used to store food and beverages in outdoor settings, such as parks and festivals, without the need for a nearby power source. In addition, solar refrigerators can be used in homes and businesses as an energy-efficient alternative to traditional refrigerators.
While solar refrigerators offer numerous benefits, there are still some challenges that must be overcome before they can become widely adopted. One such challenge is the cost of the technology. Solar refrigerators can be more expensive than traditional refrigerators, which may limit their adoption in some markets. However, as the technology advances and economies of scale are realized, the cost of solar refrigerators is expected to decrease, making them more accessible to a wider range of consumers.
Another challenge is the need for proper installation and maintenance. Solar refrigerators require careful installation to ensure that they are properly oriented to receive sunlight and that the PV panels are not obstructed by shade or debris. In addition, proper maintenance is necessary to ensure that the system operates efficiently and effectively. To overcome these challenges, companies and organizations that deploy solar refrigerators must provide training and support to users and maintainers.
In conclusion, solar refrigerators are a promising technology that has the potential to revolutionize the refrigeration industry. Their environmental sustainability, energy efficiency, and versatility make them an attractive option for a wide range of applications, from healthcare to outdoor recreation. While there are still challenges that must be overcome, the market for solar refrigerators is rapidly expanding, with several companies investing in the technology. As the technology advances and becomes more accessible, solar refrigerators are likely to become an increasingly important component.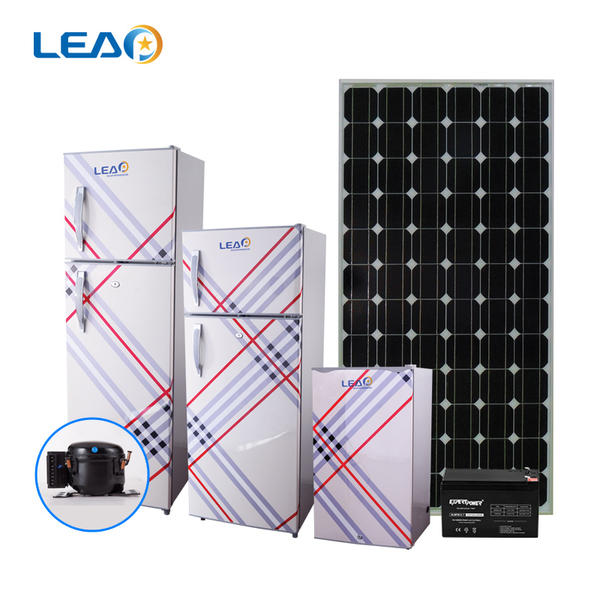 High quality DC compressor
Works with both 12/24 volt systems (auto recognition)
Does not require an inverter
Adjustable heavy-duty glass shelves , bottom crisper
Interior led light
Optional converter to run on AC power
Super efficient construction 60mm of insulation in the
Freezer and 40mm in the fridge
Model LP-BCD188 & LP-BCD258 , please  choose 24Volt systems connection