A
dual temperature car refrigerator
is a type of portable refrigerator that can keep two separate compartments at different temperatures simultaneously. This type of refrigerator is often used in cars, trucks, and RVs for storing food and drinks while traveling.
The main advantage of a dual temperature car refrigerator is that it allows you to keep different types of food and drinks at their ideal temperatures. For example, you can store cold drinks in one compartment and frozen food in another compartment. This is especially useful if you're traveling for an extended period and want to have a variety of food and drinks on hand.
Another advantage of a dual temperature car refrigerator is its portability. You can easily move it from your car to your campsite or hotel room, making it a versatile option for travel.
When choosing a dual temperature car refrigerator, it's important to consider the size and capacity you need, as well as any additional features such as a digital display, adjustable temperature control, and energy efficiency. You should also consider the power source, as some models can be powered by your car's cigarette lighter socket, while others require a separate power source.
Overall, a dual temperature car refrigerator can be a convenient and practical investment for anyone who frequently travels and wants to keep their food and drinks at the optimal temperature.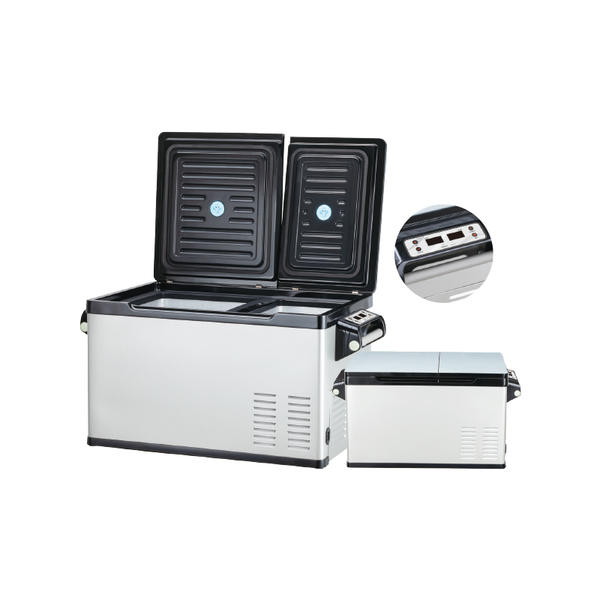 LED Display & Touch Control: With the touch control you can easily set your desire temperature (range from -4°F to 68°F), and different modes for option including Max (fast cooling) and Eco (Energy Saving). 
Work on 12/24V DC and 220V AC power source, you can move the portable fridge seamless from home to vehicle. A DC power cord and AC power cord are included in the original packing. You don't have to re-set the temperature when you change the power source because of the memory function.
Intelligent Battery Protection: You can select the protection level (High, Mid and Low) according to your circumstance, and the control program keeps monitoring the car battery, the compressor will shut off automatically when the input voltage is lower than your setting, so the car battery will not run down.
With the energy saving design, the car fridge will not consume energy when it reach the setting temperature, the insulation will keep the stuff frozen for 10 hours even after disconnecting from the power source.