In today's fast-paced world, travel has become an integral part of our lives. Whether it's a short road trip or a long-haul journey, keeping our food and beverages fresh and chilled can enhance our travel experience.
Mini car refrigerators
have emerged as a popular solution, providing convenience and versatility on the go. This essay explores the benefits and potential drawbacks of mini car refrigerators, questioning whether they truly are the ultimate travel companion.
Convenience and Accessibility:
Mini car refrigerators offer the convenience of having perishable items readily available during travels. Whether it's a refreshing drink, a healthy snack, or a pre-prepared meal, these compact refrigerators allow travelers to have their preferred food and beverages at arm's reach. This accessibility saves time and money by eliminating the need to make frequent stops at convenience stores or restaurants along the way.
Preserving Freshness and Quality:
Maintaining the freshness and quality of food and beverages is crucial, particularly during longer trips. Mini car refrigerators equipped with cooling capabilities can keep perishable items at the desired temperature, preventing spoilage and maintaining nutritional value. This feature is especially beneficial for individuals with dietary restrictions or those who prefer home-cooked meals while traveling.
Flexibility and Versatility:
Mini car refrigerators come in various sizes and designs, offering flexibility and versatility to cater to different needs. Whether you have limited space in your vehicle or require a larger capacity, there are options available to suit your specific requirements. Additionally, some models offer the option to switch between cooling and heating functions, enabling travelers to store both chilled and warm items as needed.
Energy Efficiency and Portability:
Mini car refrigerators are designed to be energy-efficient, utilizing technology that consumes minimal power while providing effective cooling. This feature ensures that the refrigerator can be powered by the vehicle's battery without draining it excessively. Furthermore, these compact refrigerators are lightweight and portable, making them easy to carry and transfer between different vehicles or even other outdoor activities like camping or picnics.
Mini car refrigerators undoubtedly provide convenience, accessibility, and freshness while traveling. Their ability to keep food and beverages chilled or warm, their flexibility, energy efficiency, and portability make them appealing to many travelers.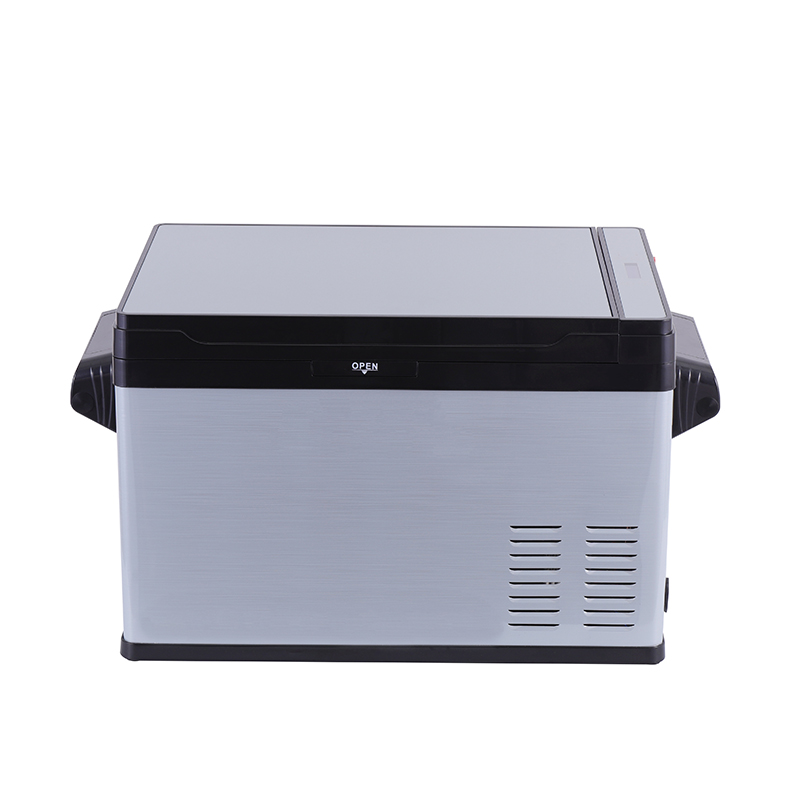 Three power supply: car battery 12V/24V; power supply 100V-240V; solar energy
Built-in 12v lithium batttery can work everywhere once charged
With USB interface you can charge all electronic Products
LED Display and Touch Control you can easily set your desire temperature
Different modes for option including Max (fast cooling) and Eco (Energy Saving)
LP- 20/30/40/50 Litres All in one car refrigerator