The installation and setup requirements for a 12V DC freezer can vary depending on the specific application and usage scenario. Here are some factors to consider when installing and setting up a 12V DC freezer in different applications:
1.Power Source:
Identify and confirm a reliable 12V DC power source. Ensure it has sufficient capacity to power the freezer continuously without causing voltage drops.
If using a battery, calculate the battery's capacity and expected runtime to determine if it meets your storage needs.
2.Voltage Stability:
Use a voltage regulator or stabilizer if the power source exhibits significant voltage fluctuations. Fluctuations can affect the freezer's compressor and overall performance.
3.Location:
In a vehicle, consider mounting the freezer securely to prevent movement during travel. Use appropriate brackets or straps.
In off-grid or mobile applications, choose a location protected from direct sunlight and environmental factors that may compromise performance or durability.
4.Ventilation:
Ensure there's adequate ventilation around the freezer. Maintain clear air pathways for efficient heat dissipation from the condenser coils.
Avoid obstructing the vents or placing the freezer in an enclosed space with poor airflow.
5.Level Surface:
Place the freezer on a level and stable surface to prevent stress on internal components and maintain proper functioning of the compressor.
6.Wiring:
Use high-quality wiring and connectors with the appropriate gauge to minimize voltage drop. Improper wiring can lead to reduced cooling efficiency.
Insulate wiring properly to prevent short circuits and ensure safety.
7.Temperature Settings:
Set the freezer's temperature to match the requirements of the items to be stored, following manufacturer recommendations for safe and efficient operation.
Some freezers offer multiple compartments with adjustable temperature settings; configure them accordingly.
8.Load Distribution:
Distribute the contents evenly inside the freezer to facilitate uniform cooling. Avoid overloading, which can obstruct airflow and hinder cooling efficiency.
9.Monitoring:
Consider installing temperature monitoring devices or systems to continuously track the freezer's internal temperature. Alarms or notifications can alert you to issues promptly.
10.Maintenance:
Regularly clean the interior and exterior of the freezer as per the manufacturer's guidelines.
If applicable, schedule defrosting cycles to prevent excessive ice buildup on the evaporator coils, which can reduce cooling efficiency.
Inspect components for wear and tear, and replace or repair them as needed.
11.Security:
Implement appropriate security measures, such as locks or tamper-evident seals, to protect the contents from theft or unauthorized access, especially in commercial or medical applications.
12.Transportation:
Secure the freezer during transportation in vehicles to prevent damage. Use straps, brackets, or custom mounting solutions as necessary.
13.Regulations:
Familiarize yourself with any applicable regulations, standards, or codes that govern the use of refrigeration equipment in your specific application. Ensure compliance.
14.Backup Power:
In critical applications, consider backup power solutions like an additional battery or a generator to maintain freezer operation during power outages or emergencies.
15.User Training:
Provide comprehensive training to personnel responsible for operating the freezer. Ensure they understand proper usage, maintenance procedures, and safety protocols.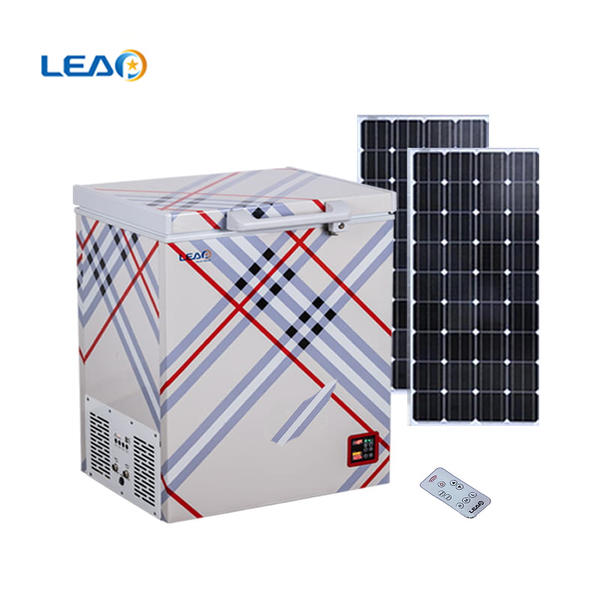 Inbuilt Lithium Battery
Inbuilt Charge controller
Brand dc compressor
DC 12V or AC 110-240V
With 2 DC outlets , can drive 12v fan or12v TV